Charlotte
Hafstad
Associate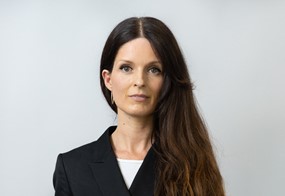 Charlotte Hafstad has a unique experience from the Norwegian Petroleum Fund's Council on Ethics and from the Norwegian Armed Forces' operational activities. She is currently writing a doctorate at the Faculty of Law in Oslo on financial transactions and national security and is one of Norway's foremost experts in economic security. She advises clients on security-related issues and provides strategic advice at the intersection of law and geopolitics.
Charlotte has 14 years' experience within the public sector. Whilst working for the Council on Ethics for the Government Pension Fund Global (Oil Fund), she investigated multinational companies involved in gross corruption and human rights violations for several years. She then worked as a senior adviser in the Armed Forces and supported the Armed Forces' operational activities through legal advice related to cyber, technology, privacy and security law. In 2020, she joined Bing Hodneland law firm as an attorney, where she has consulted clients in security legislation, cyber and privacy, as well as screening rules for foreign investments. Since 2022, Charlotte has been Country Reporter for CELIS Institute, an international expert body on financial transactions and security.
Charlotte holds a master's degree in law from the University of Oslo, specializing in WTO law, corporate law and international humanitarian law from the Humboldt University in Berlin. She also holds a master's degree from the War department at King's College in London with specialization in states' handling of international security threats such as terrorism and espionage. She wrote her master's thesis under the guidance of Sir David Omand.
Education
2016 - 2017

Master in Terrorism, Security and Society, King's College London

2007

Master of Laws , University of Oslo

2006 - 2007

Specialization in companies' reporting obligations and human rights, Humboldt University of Berlin
Professional experience
2023 -

Associate, Ræder Bing advokatfirma AS

2020 - 2023

Associate, IT & Media, Bing Hodneland advokatselskap DA

2012 - 2020

Senior adviser, The Norwegian Armed Forces

2006 - 2012

Adviser, The Council on Ethics for the Government Pension Fund Global (Oil Fund)
Want to stay up-to-date?
Yes please!
At Ræder Bing, we are passionate about our fields of expertise and keen to share what we know and learn. Subscribe to our newsletter and stay updated.
Laster....