Accessing the US Capital Markets
Joint Ræder and OTC Markets event focusing on the benefits of cross-trading in the U.S. capital markets for publicly-traded Norwegian companies. Learn how you can expand your investor base in the U.S. without the cost and complexity of listing on an exchange.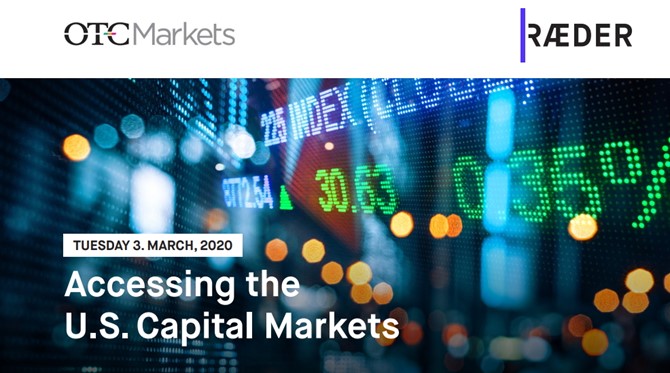 Agenda
8:00AM - Registration

8:30AM - Welcome remarks, OTC Markets intro

9:00AM - Panel discussion with Carl Garmann Clausen, Partner at Raeder; Jason Paltrowitz, EVP Corporate Services of OTC Markets; Derek D'Antilio, CFO of IDEX Biometrics and moderated by Joe Coveney, VP Corporate Services of OTC Markets

9:30AM - Q&A

9:45AM - Networking
Speakers
Carl Garmann Clausen, Partner at Advokatfirmaet Ræder AS
Carl Garmann Clausen is a partner in Advokatfirmaet Ræder AS, a law firm in Oslo, Norway. A dual licensed attorney in both Norway and New York State, a considerable part of Carl's work is focused on international law and Norwegian-US cross border transactions. Carl advises publicly listed companies on Oslo Børs and has substantial experience with stock exchange introductions, information disclosure requirements and equity transactions in listed companies. Carl holds an LL.M degree in international law from the Unvirsity of Notre Dame London Law Centre.
Jason Paltrowitz, Director & EVP of OTC Markets Group
In his dual role as Director, OTC Markets Group International Ltd. and EVP, Corporate Services, Jason Paltrowitz manages the company's international and domestic Corporate Services business, supporting more than 1,200 companies that trade on the premium OTCQX and OTCQB Markets. Leveraging his background in financial services and expertise in cross-border trading, Jason spearheads sales initiatives and alliances to provide international issuers with efficient alternatives to raise capital, access U.S. investors and help alleviate the cost and complexity associated with trading in the U.S. capital markets. Prior to joining OTC Markets, Jason held senior level positions at JP Morgan and BNY Mellon. Jason holds a Bachelor's degree in International Relations from Boston University and received his MBA from the NYU Stern School of Business.

Derek D'Antilio, CFO of IDEX Biometrics
Derek has over twenty years of financial experience with some of the most recognizable companies, including PwC and Hewlett-Packard. He has held senior finance positions at high-growth US-listed technology companies with responsibility for global accounting and reporting, financial planning, treasury, tax and operations. Prior to joining IDEX Biometrics, Derek served as VP of Finance for a global, high-growth, privatively held software company. Prior to that he spent 8 years leading the accounting and finance team of MKS Instruments, Inc. Derek has an MBA from Babson College and is a Certified Public Accountant. He is based at IDEX's Wilmington office in Boston, USA.
Background
Advokatfirmaet Ræder:
Ræder is regularly involved in transactions on the stock exchange, including listings and IPOs of Norwegian companies, equity transactions in listed companies, preparation of prospectuses, corporate governance and compliance, and other securities law issues. We regularly advise issuers,investors and other parties on capital markets issues.
In an increasingly global world, the need for legal advice often extends beyond national borders. Clients and cases often need access and advice across various jurisdictions. Ræder has built and is a member of various international networks of leading law firms, which enables Ræder to provide expert cross-border legal advice. Ræder has assisted two listed issuers on Oslo Børs in regard to their applications to OTC Markets for listing on OTCQX and OTCQB.
OTC Markets:
OTC Markets Group, Inc. is a New York based operator of the US over-thecounter stock market, which includes OTCQX, OTCQB and Pink Markets.Foreign listed issuers can expand their US investor ownership and shareholder base when joining OTCQX, while simultaneously growing local market volume, liquidity, and valuation without additional complexity.
Hundreds of non-US listed issuers have successfully used the OTCQX Best Market to enable US brokers and investors to quote and trade their shares in US dollars during US market hours. At the OTCQX, OTCQB and Pink Markets, OTC Markets create efficient markets for more than 10,000 securities, including 6,000 international companies, which are held by the largest US institutions and US retail investors.
No SEC filing requirements apply in relation to having shares quoted on OTC Markets. While not limited to large companies, OTC Markets provide market services to some of the best-known issuers in Europe, among them several Norwegian companies.
Ønsker du våre oppdateringer?
Ja, takk!
Vi i Ræder Bing brenner for faget vårt, og er levende opptatt av å dele kunnskap. Derfor vil vi oppdatere deg jevnlig med å sende siste faglige nytt samt invitasjoner til gratis seminarer. Fyll ut din kontaktinfo nedenfor og få tilsendt vårt nyhetsbrev.
Laster....