Start Up and Grow
Get hands on advice to help grow your business from a startup to a successful venture. Learn how to structure your company and understand the eco-systems surrounding entrepreneurial activities. The event consists of compact sessions covering important legal and financing aspects.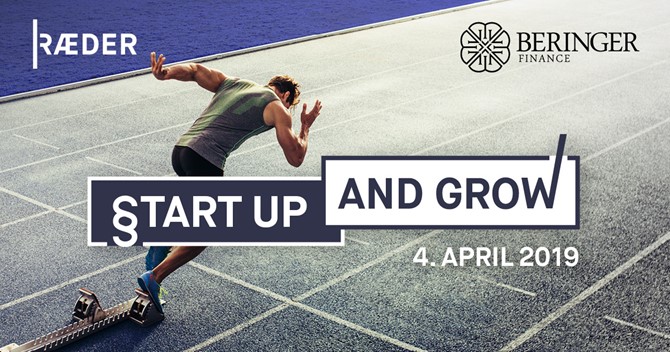 Legal requirements
A good idea, strong enthusiasm, an understanding of practical and strategic legal requirements so that you are 'rigged' to secure financing thus growth, are critical to the success of entrepreneurs, startups and early-stage companies. Successful businesses are often built on strong legal foundations. We will provide you with an understanding of these and share best practice thus minimizing the downstream risks of legal headaches. A well structured company not only operates effectively but is also attractive for investors.
Financial requirements
Professional investors typically have a portfolio approach to their investments, balancing risk and liquidity with potential upside for a given investment. Execution capabilities, agility and adaptability of the core team comes under scrutiny when a company plans to go from a start-up to a scale-up. Closing with the right investors, on the right terms and on time is a mix between art and science. We will provide you with an understanding of the mechanisms behind obtaining the necessary growth funding in Norway, the accessibility to different sources of funding, relevance according to the various stages of the company life cycle, as well as insight into key learning points from transactions in the Nordics.
Program:
Managing the law (08:30-10:00)

– Legal frameworks and shareholder agreements, w/Carl Arthur Christiansen, Partner
– Tax law for start ups - structures and schemes, w/ Anne Gro Enger, Partner
– Licensing of intellectual property rights/ Key clauses, w/ Lisa Digernes, Senior Attorney
– Potential Employment Law Hazards - w/ Nils Kristian Lie, Partner

Funding you company (10.00-11.00)

–What are investors looking for? 20 min session and 10 min Q&A . w/ Steinar Svalesen, Director Corporate Finance, Beringer Finance
–Case Study: WeOrder, incl. observations from capital raising efforts w/ Lars Haugstad, CFO & COO

Closing remarks, lunch and networking (11.00-12.00)
Organizers:
Advokatfirmaet Ræder is a leading Norwegian law firm covering most areas of business law. Since 1949 our lawyers have advised clients on complex issues in a simple, efficient and personal manner. Our clients span from startups and entrepreneurs, innovation clusters, listed companies to multinational corporations. We work across national borders and are often preferred advisors on cross-border deals. A number of Ræder's lawyers have played key roles in leading technology companies, and have been instrumental in a large number of cross border transactions involving international investment funds.
Beringer Finance is a technology focused investment bank. An innovative player that brings in-depth sector research, knowledge of technology and a global network with insight about business opportunities to the table. We combine more than one hundred years of history in investment banking with an entrepreneurial spirit and a passion for all things tech.
Ønsker du våre oppdateringer?
Ja, takk!
Vi i Ræder Bing brenner for faget vårt, og er levende opptatt av å dele kunnskap. Derfor vil vi oppdatere deg jevnlig med å sende siste faglige nytt samt invitasjoner til gratis seminarer. Fyll ut din kontaktinfo nedenfor og få tilsendt vårt nyhetsbrev.
Laster....